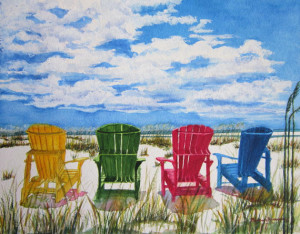 Mission On A Beach
Out of necessity the founders of MeTime Audio set out to design a solution to listen to music on the beach without the nuisance of having to take on and off ear buds with sticky, sandy, wet fingers each time they went for a swim. A hassle they often dealt with on family beach vacations. When looking for alternatives, the only option to earbuds/headphones were portable speakers, but that created a different set of issues, they disturbed people near them that had no interest in listening to their music.  They could relate to this, as they also experienced music from other beach goers that compromised that relaxing vibe on the beach. They knew there had to be a better way to enjoy tunes near the surf or pool without the hassle or disturbing others. That's when SunTunes™ was engineered, a hybrid between both mainstream methods; ear buds/headphones and portable speakers.
MeTime Audio soon became a family affair with their sons, their greatest creations and ongoing source of inspiration.  Creating a family centered business is a priority for them, one that allows them to teach their sons entrepreneurial skills that will serve them well in whatever career path they choose.   Both born and raised in the Chicagoland area, the founders were each part of a family that had entrepreneurial aspirations as well.  They were taught diligence, a hard work ethic, and above all the importance of family as a number one priority.  These core values learned as children, carried over to their professional pursuits, and is something they hope to instill in their own children.
Together as a family they continue to grow and develop the company.  They envision a audio collection that is both innovative, and responsive to consumer needs with an emphasis on "near-ear" technology.
metime audio manifesto – hustle & rest in balance
We don't spend enough time relaxing. Work, family and social commitments are all essential and fulfilling, but tend to fill up our days meaning we barely get any time to indulge in ourselves and our own needs. And while it seems like there's a dedicated day for everything, sometimes it takes that extra bit of encouragement to remind ourselves that MeTime is a necessity, not a luxury.
We hope to change the experience on how music can be enjoyed & interacted with, and give consumers the opportunity to see music listening in a new way, while breaking away from daily mundane experiences. Unwinding shouldn't be seen as a failure, or a break in productivity. Instead, it's essential, and helps us to recharge & improve productivity. In fact, many people at work listen to music when they find themselves losing focus. Creativity increases because music improves your mood.
So embrace those MeTime moments through song. Find that perfect hangout, power-up SunTunes™, lean back & enjoy music, your surroundings & a new experience in audio.