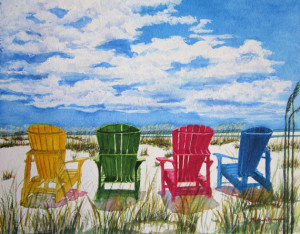 Mission On A Beach
MeTime Audio was Est. in 2014 as the founders set out to create a solution to listen to music on the beach without the nuisance of having to take on and off headphones or ear buds for each swim while dealing with the common beach elements of water, sand, and suntan lotion.
When searching for a solution, the only other option was to use a portable speaker, but that created yet another problem, we disturbed  the people around us that had no interest in listening to our music.  We thought there had to be a better way to experience music on the beach without the hassle or inconvenience to others.  Twelve months later our first audio product was created, SunTunes™, which is somewhat of a hybrid between both mainstream methods; ear buds/headphones and portable speakers.
MeTime Audio soon became a family affair with our sons, our greatest creations and ongoing source of inspiration.  Creating a family centered business is a priority for us, one that allows us to teach our sons entrepreneurial skills that they will carry into the world.   Both born and raised in the Chicagoland area, the founders were each part of a family that had entrepreneurial aspirations as well.  We were taught diligence, a hard work ethic, and above all the importance of family as a number one priority.  These core values learned as children, carried over to our professional pursuits, and is something we hope to instill in our own children.
Together as a family we continue to grow and develop the company.  We envision a audio collection that is both innovative, and responsive to consumer needs with an emphasis on the "personal audio" experience.   From celebrities to older and younger generations, everyone will love the innovative style of The Original – SunTunes™.
Our Vision Statement – Nature & music in balance
Spread the love of lazy days by Mastering the Art of music listening & much needed solo time totally stress-free!
Sometimes, doing nothing means everything.  So find that perfect lazy day hangout, power-up SunTunes™, lean back & enjoy music in your own personal bubble of captivating tunes!